Applications for Android

Know if your SMS has been delivered
Description
Delivery Reports lists SMS messages, their delivery reports and their status. You can export the list by e-mail or in a file.
Consulting many SMS delivery reports is sometimes painful with Android. You need to open the discussion, long press on the message and select Properties.
Some old non-tactile phones have a menu entry which lists the delivery reports.
First, you need to activate the request of a delivery report in your stock messaging application. This may result in additional charges from your carrier.
On many devices, launch the app Messages, select Settings, SMS and check Delivery reports.
This app does not send SMS or activate standard SMS delivery reports. Sometimes your messaging app or carrier doesn't support acknowledgment for SMS (don't blame Delivery Reports for that).
Screenshots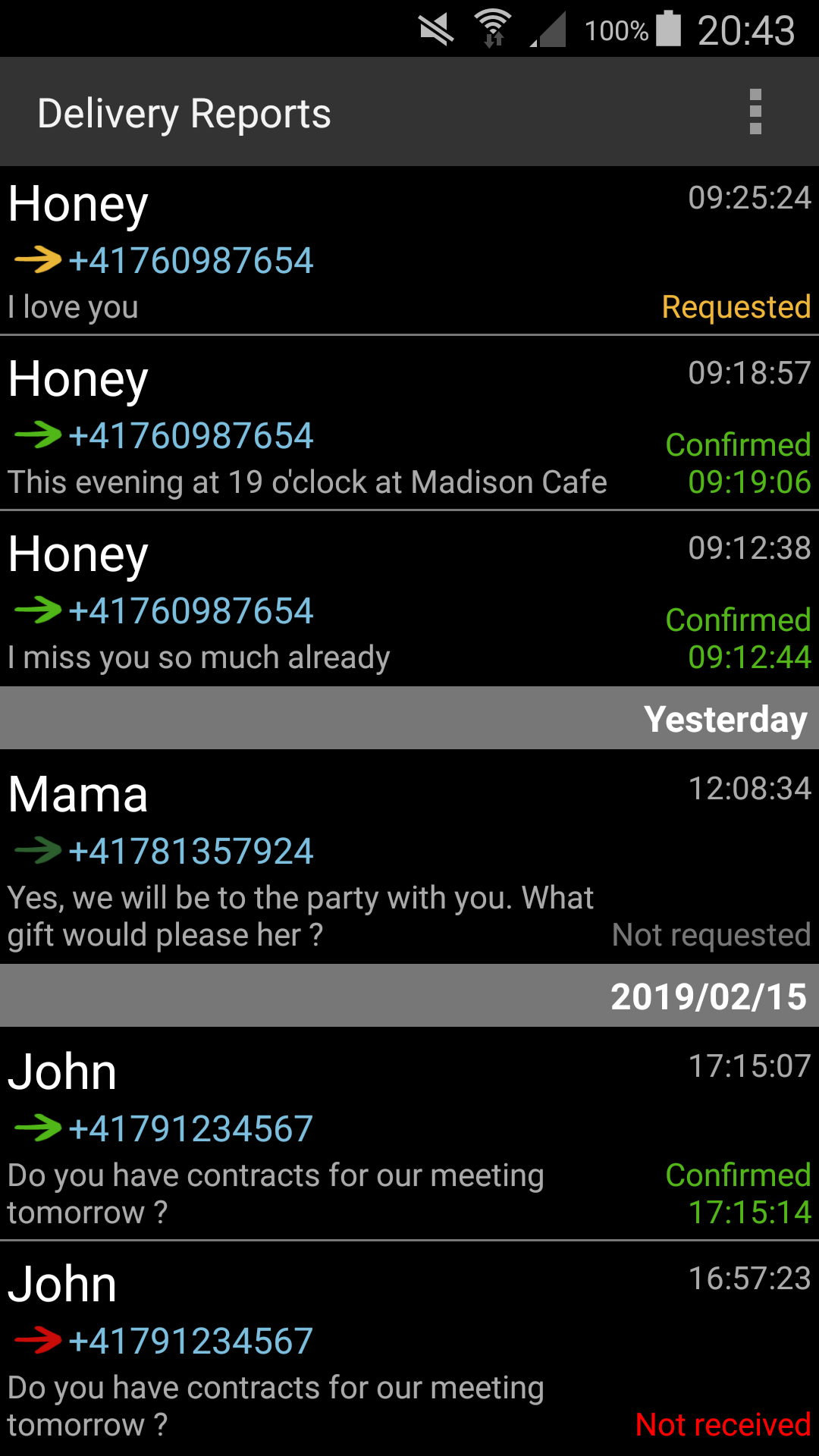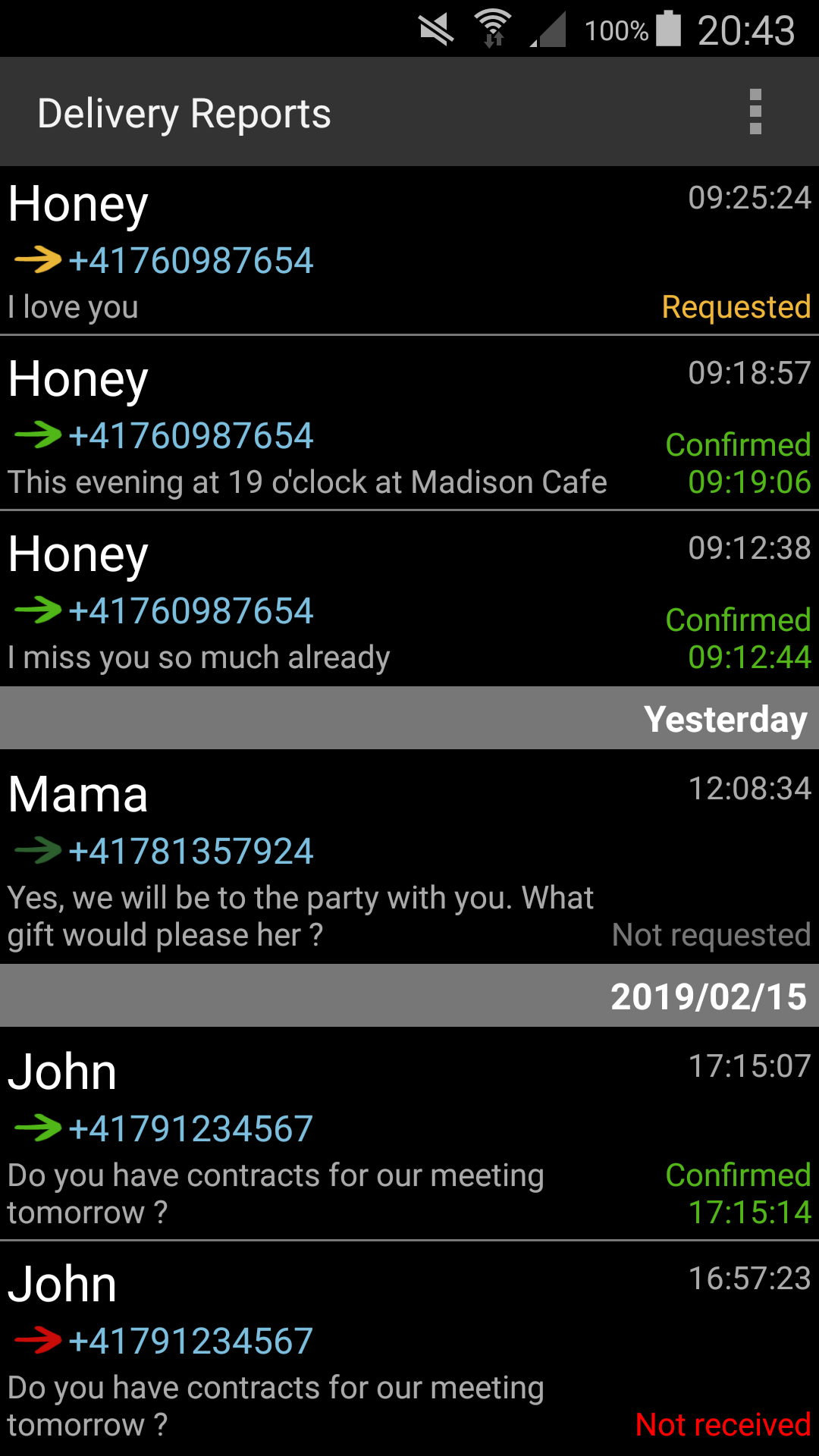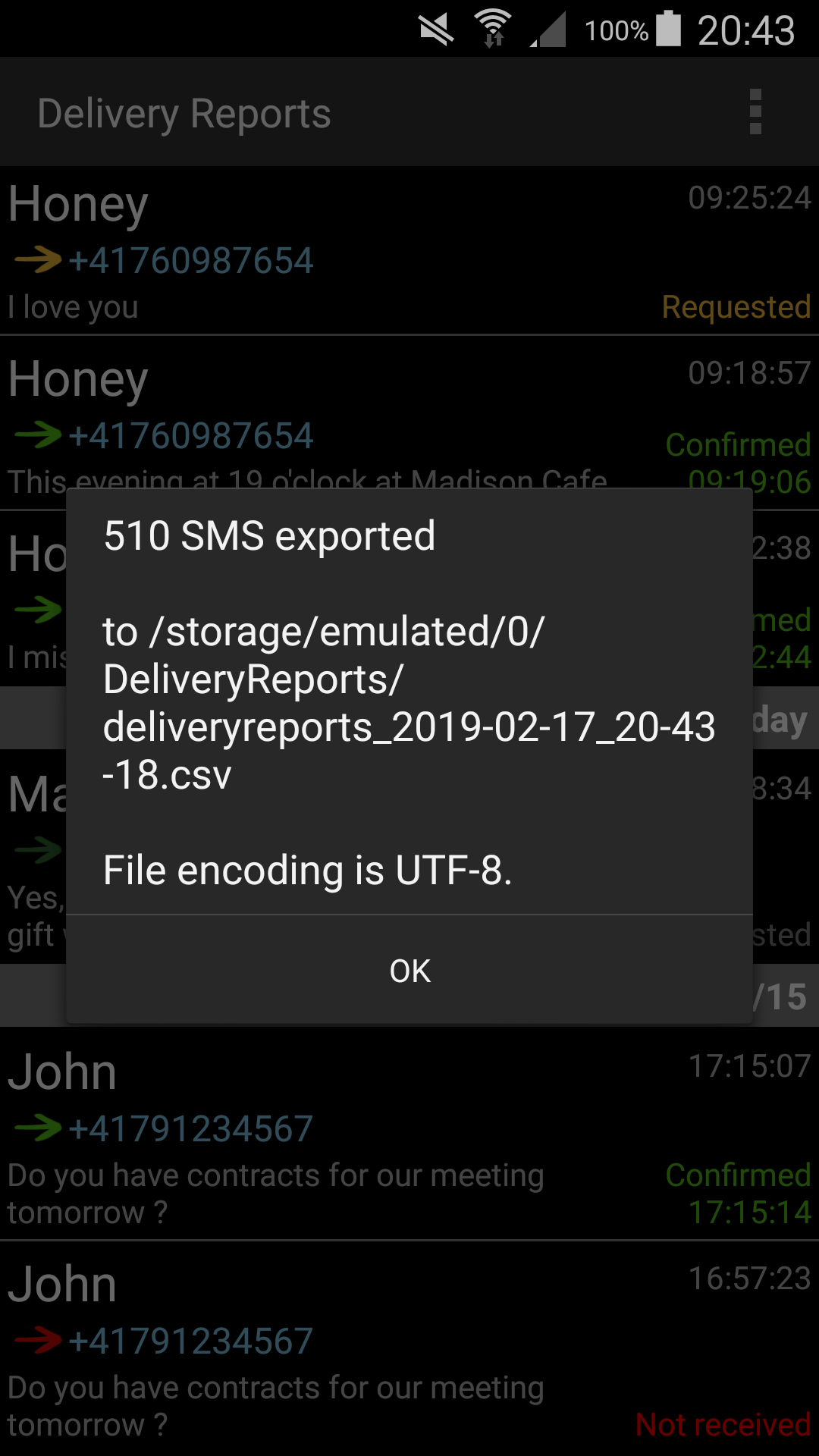 Permissions
READ_SMS

to list messages

READ_CONTACTS

to use contact name in the list

WRITE_EXTERNAL_STORAGE

to backup the SMS list to a file
Privacy Policy
Delivery Reports does not communicate over the Internet and does not store or transmit any user data.
Google Play
Delivery Reports is not on Google Play anymore due to the new Google Play permission policy.
Google refused the READ_SMS and READ_CONTACTS permissions to Delivery Reports and has ignored a request for a new use case : displaying all the delivery reports in one screen.
Updates of Delivery Reports can be installed from the store of your manufacturer (Samsung, Amazon, Xiaomi, Yandex) or downloaded from this website.
When updating from this website, SlideMe, GetJar or TorrApk, "Unknown sources" must be enabled in Android security settings.
Releases
Delivery Reports 2.1.1
Size: 417119 B
MD5: d9d6281c24fb582805815a2799480000
SHA1: 6c2566e48302a92f8701625d3541b753082e47cf
What's new
Backup of the SMS (mail or file)
New languages: spanish, portuguese, french, german, italian
No ads
No available on Google Play
Delivery Reports 2.0.6
Size: 437899 B
MD5: acfc40f24621475caee0fe9265212a95
SHA1: 45efb6ebe06071c2fa37c1a009964fa5498fec90
What's new
Compliant with Google Play permission policy
Ads
Delivery Reports 1.0.4
Size: 43570 B
MD5: 62c800205307e3c897b68999d862f6c8
SHA1: 07309727b009de49abcacd94d42b5ee7c75d698d
What's new